Hot Shot Trucking Insurance Requirements
April 11, 2018
While most people associate commercial trucking with big rigs, it's actually the smaller segments that have contributed to most of the growth witnessed in this industry. This is particularly true when it comes to hot shot trucking, a segment that has rapidly expanded to become a world of its own. This makes it an ideal territory for entrepreneurs, but it's important to learn what separates hot shot trucks the rest of the industry.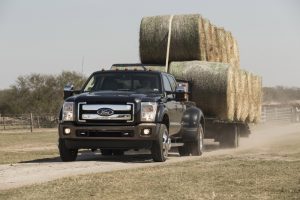 Hot Shot Trucking
Basically, hot shot trucking refers to freight that's hauled using a midsize truck, specifically one that falls into Class 3, 4 or 5. What makes them unique from their larger 18-wheel counterparts is their ability to venture into certain areas, since they aren't restricted by a weight limit. This line of trucking can prove quite profitable for you, as long as you have the connections needed to find loads and have met these insurance requirements:
-Liability: The FMCSA requires hot shot truckers to carry $750 000 in liability at the very least. However, this won't cut it from a practical standpoint. Brokers and shippers will require that you have $1 000 000 of the same coverage before they even consider working with you.
-Physical damage: Although this isn't required by the law, physical damage coverage for your equipment is strongly recommended.
-Cargo: Under federal law, you'll be required to have a cargo coverage of at least $5 000. Shippers will, however, demand a limit of 20 times this amount, with some loads further requiring special endorsements. When hauling multiple loads, each bill of lading will need $100 000 in coverage. It goes without saying that you'll have to look for a policy designed with such considerations in mind.
A well-designed insurance policy should also contain:
-Earned freight: This covers the loss of income resulting from a load that cannot be delivered due to a covered cargo loss.
-Broadened pollution coverage: This caters for the accidental discharge of hazardous materials while in transit, or when they're being loaded/unloaded from a covered truck.
-Towing and storage: This caters for all costs related to towing damaged equipment as well as storage.
-Loading and unloading: This covers shipments while they're being loaded/unloaded.
-Combined deductibles: With this coverage, you'll only need to pay one deductible in the event of a mishap involving both your equipment and cargo as well.
What Else Do You Need to Know?
The annual cost of insuring a single vehicle typically ranges between $6 000 and $12 000, which is significantly less than that what you'd incur with a Class 8 truck. Other factors aside, how much you'll have to pay for coverage will mostly depend on the agency you use, as well as the companies they're appointed with. As a rule of thumb, you'll want to get in touch with multiple agents when shopping for hot shot trucking insurance.
Better yet, why not use the internet and make the shopping process much easier? Here, you can compare multiple agencies to find the coverage you need at the lowest possible price. Not to mention that most companies also offer discounts for online purchases. Buying insurance online could save you up to 10 percent on your quote for the policy, but it's important that you keep these points in mind while you're at it:
-Look for a policy that matches the loads you'll be hauling, and which is also flexible enough to allow changes to be made at a moment's notice. This will come in handy when you're hired to transport commodities that don't fall under your standard coverage.
-It's very important that you review your hot shot trucking insurance quote application before committing yourself. Not all agents will be straightforward when submitting your application — some are known to cut corners as they try to find deals. When checking the documents, pay attention to the types of loads listed and the radius of operation.
-The best way to save on insurance is to pay in full. Yes, that's right — it may sound counter-intuitive, but paying for your policy in one lump sum could actually slash its cost by $800. That said, seasoned operators recommend doing this after a couple of years or so of being in business.
Now that you have a glimpse of what to expect in the insurance landscape, feel free to explore and learn more. The name of the game is to buy sufficient coverage at the best possible price, but this will only happen when you have enough knowledge and experience under your belt. That aside, make sure to work with an agent who fully understands the hotshot trucking niche when shopping for an insurance policy.